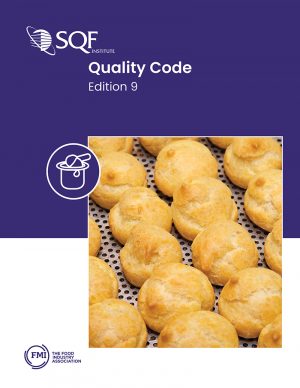 SQFI Expands Quality Certification Eligibility Requirements to Include Additional Food Safety Certified Sites
April 6, 2021
By Tammie Van Buren, SQFI Compliance Manager
In October 2020, SQFI released Edition 9 of the SQF Food Safety and Quality Codes. Several significant changes were included in the new edition, including an enhancement to the SQF Quality Code. The new SQF Quality Code Edition 9 allows for food safety certified sites throughout the supply chain to become SQF quality certified.
What is the SQF Quality Program and Code?
The SQF Quality Program was created for sites who desire to go above and beyond food safety and to be recognized for having a quality management system that produce quality foods. The program is designed to monitor and control food quality related threats. By following the methodology outlined within the SQF Quality Code, sites can more effectively control variation and reduce production costs and customer complaints.
The SQF Quality Code uses a risk-based method such as HACCP to identify and control quality threats, and addresses process controls to monitor product quality, identify deviations from control parameters and define corrections necessary to keep processes under control.
Why pursue SQF quality certification?
Becoming SQF quality certified can help food manufacturers stay competitive, as certification is a supplier requirement for many purchasing companies. The SQF Quality Code can take the competitive edge a step further, as it is an added certification which demonstrates a company's commitment food quality in addition to food safety.
Which sites can obtain an SQF quality certification?
In the SQF Code Edition 8.1 and previous versions, only sites certified to the SQF Food Safety Program could add an SQF quality certification. With Edition 9 implementation in May 2021, primary production, manufacturing, food packaging, and distribution sites outside of the SQF community can certify to the SQF Quality Code.
Even if your site currently holds another GFSI-recognized food safety certification or a HACCP certification, your site now has the option to add SQF Quality. Site eligibility is outlined in Part A of Edition 9 and states that "the SQF Quality Code can also be applied as a food quality certification to any food or feed manufacturing, or storage site certified to a GFSI-recognized certification program, any GFSI technically equivalent standard or other food safety management standard (FSMS) including HACCP certification or ISO 22000:2018."
Why did SQFI extend the quality certification option to all sites, including non-SQF certified sites?
Quality food is an integral element to both food facilities and consumers alike. While the reasons why sites and consumers demand quality differ, it cannot be denied that quality control is vital to customer satisfaction and company success.
We redesigned the SQF Quality Code Edition 9 to eliminate the specific references to the SQF food safety system elements. This allows sites to apply the principles and methodology within the Quality Code to any pre-existing food safety system. Specific references such as corporate requirements were replaced with general company requirements so that any site, big or small; mature or start-up, can begin their food quality journey.
How can my site become SQF quality certified?
Implementing a food quality system does not happen overnight. However, it is simplified within Edition 9 such that sites can easily build quality systems off their existing food safety systems. For example, any GFSI-benchmarked food safety certification program includes an element to address customer complaints. Sites can now add measures that enables customers to submit their quality complaints in addition to safety concerns.
All your site needs to begin SQF quality certification is reach out to your current Certification Body (CB). If your CB is a licensed SQF Certification Body, your site can start the process to becoming quality certified. If your CB is not SQF approved, you may select one from our list of 30+ licensed SQF CBs.
*Note that there is a $250 USD fee for sites adding SQF quality certification outside of the SQF Food Safety Program. SQF quality certification fees are waived for sites already certified or planning to certify to SQF food safety.
Not sure if quality certification is for you? Read our blog to learn how getting quality certified can save your site money and improve customer satisfaction.