SQFI Achieves FSC 25 and 26 GFSI Benchmarking
December 18, 2014

SQFI Achieves GFSI Benchmarking to Cover Food Sector Categories 25 and 26

SQFI is excited and pleased to announce that our Storage and Distribution of Food Products Program has received Global Food Safety Initiative (GFSI) Benchmarking! Benchmarking covers Modules 2 and 12 of the SQF Code and refers to Food Sector Categories 25 and 26. This module meets the Good Distribution Practice requirements for the transport and storage of perishable and non-perishable food and feed products. Suppliers implementing this module must also meet the requirements of Module 2: SQF System Elements. Module 12 is intended for distribution facilities that do not process or repackage. Facilities that process food such as slicing, dicing, relabeling, and repackaging of products, for example, a case of cucumbers that is received and repackaged and relabeled into smaller cases must use the applicable module 10.
Click here for a copy of the program documents
Since 2010 SQFI has been diligently seeking GFSI benchmarking, where applicable, for all our Food Sector Categories. We are excited to offer these highly anticipated benchmarked modules to our stakeholders so they can be assured they are transporting and storing perishable and non-perishable food and feed products safely. This latest addition to the SQF Program further demonstrates our vision to be the single most trusted source for global food safety and quality certification.
Below is a timeline of SQFI benchmarking history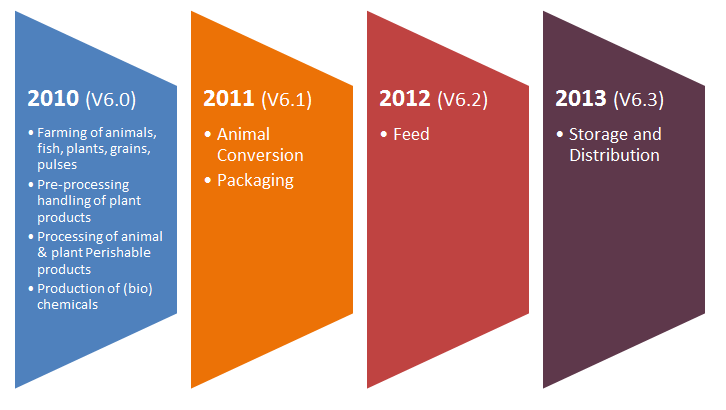 Receiving SQF certification helps to ensure that the products that are transported and stored have passed rigorous international food safety requirements, including HACCP. SQF food safety certification is the only program recognized by GFSI, which links primary production certification to food manufacturing, distribution and agent/broker management certification.
As a distribution facility, the SQF Certification will benefit your business by the following:
* Compliance – The requirements in the SQF code meet and often exceed many international food safety regulatory rules, including the Food Safety Modernization Act (FSMA) proposed rules
* Confidence – SQF is a food safety system that can help protect your brands and consumers with one of the most rigorous, globally recognized programs and state of the art data management system
* Global Recognition – a program recognized by the GFSI and food retailers worldwide
* Enhanced Protection – The SQF program provides you with data and information that has integrity, consistency, and provides a higher level of credibility than other schemes
* Access to Information – Free access to the SQF program, and our supporting documents, audit information, and SQF technical experts and consultants
* Quality Management – The SQF program includes a level of certification specifically focused on product quality and the maintenance of private label specifications at the manufacturing level.
* Reduced Product Loss – The SQF systems approach to specification management will help improve operational efficiency
SQFI continuously seeks ways to improve our program and processes. Our goal is to be the single most trusted source for global food safety and quality certification. SQFI welcomes your thoughts and recommendations to make an efficient and robust management system even better. Please contact us at info@sqfi.com to submit questions, leave feedback and request more information.