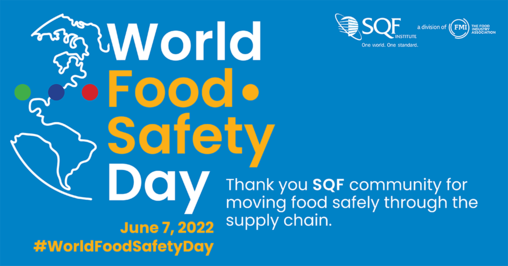 SQF Uplifts Employee Health and the Impact on Food Safety & Releases New Schedule for SQF Focus Day Seminars
June 6, 2022
Safe food is critical not only for public health and food security, but also for livelihoods, economic development, trade, and the international reputation of every country. Only when food is safe can we fully benefit from its nutritional value and from the mental and social benefits of sharing a safe meal. The SQF community has grown this year to more than 13,000 SQF-certified food manufacturing sites in more than 40 countries and 6 continents. As a food producer, achieving certification under the SQF Certification program helps food manufacturers assure buyers that the food products they are buying have been grown, produced, processed, prepared, and handled according to the highest standards of food safety and quality.
As we celebrate World Food Safety Day, June 7, 2022, we reflect on the positive impact SQF has made for safer food, better health. Every day thousands of SQF practitioners reduce risk in their production environments, employee health and welfare, and focus on continuous improvements to keep the global food supply chain safe.
Now more than ever, the food industry has strengthened sanitation and hygiene practices among its workforce and operational practices to minimize the risk of outbreaks related to processing and handling. . Improving hygiene practices in the food and agricultural sectors helps to reduce the emergence and spread of food-borne pathogens, reduce overall healthcare burden, and protect the health of millions. The SQFI food safety standards for certification provide a system for food producers and processors to manage food safety and prevent food-borne illness.
SQF Edition 9 Emphasis on Personnel Hygiene and Welfare
SQF Edition 9, effective May 2021, improved the auditing process and clarified compliance criteria for different food sectors for efficiency and ease of implementation. Personal hygiene and welfare clauses (section 11.3 of the Good Industry Practice module) are feature compliance criteria in the SQF food safety codes since these elements are critical to the foundation of producing safe food.
A Good Industry Practice (GIP) is the best or common practice that includes standards, practices, methods, and procedure conforming to the contractual obligations and all applicable law and regulatory requirements.
SQF Edition 9 Code Amendment on Medical Screening
There are nine SQF Codes covering 12 Industry Scopes and 27 Food Sector Categories (FSCs). Each Code has a section on Personnel Hygiene and Welfare in section 11 of Part B of the Codes. The expectations for compliance in this section of code implied the requirement for medical screening, and to ensure this intent was very clear, SQF released a code amendment, SQF 028) as guidance for interpretation of the requirements.
The medical screening expectation applies to visitors and contractors who visit areas of exposed product or food contact surfaces. These protocols enhance the rigor of implementation of the SQF standards and provide the first line of defense in preventing the spread of pathogens from personnel entering food processing facilities. See the full SQF Edition 9 Code Amendment on Medical Screening.
The Importance of SQF Community in Supporting Good Industry Practices
Along with our annual food safety conference, SQFI Unites, scheduled for November 7-9, 2022 in Orlando, Florida, we seek to increase our community impact by reaching out to our professionals and stakeholders wherever they may be around the world.
SQF makes a continuous effort to gather the community for discussions, shared learning, and collaborations. Together with industry partners and sponsorships, SQF hosts virtual round tables, training and in-person regional information days to keep our community informed and engaged, and to improve the SQFI program. In addition to SQF Unites, SQF is pleased to share the 2022 global regional event schedule, SQF Focus Day Seminars. Each free event will provide SQF Certification insights, case studies, and topics specific to the region and audience.
SQF Focus Day Seminars Schedule:
China July 1, 2022 - Virtual
Free and open to all. Register to save our spot!
About SQF
The Safe Quality Food (SQF) Certification is a rigorous food safety and quality program recognized by the Global Food Safety Initiative (GFSI). The SQF food safety and quality codes are designed to meet consumer, industry, and regulatory requirements for all sectors of the food supply chain, from farm to fork. www.sqfi.com